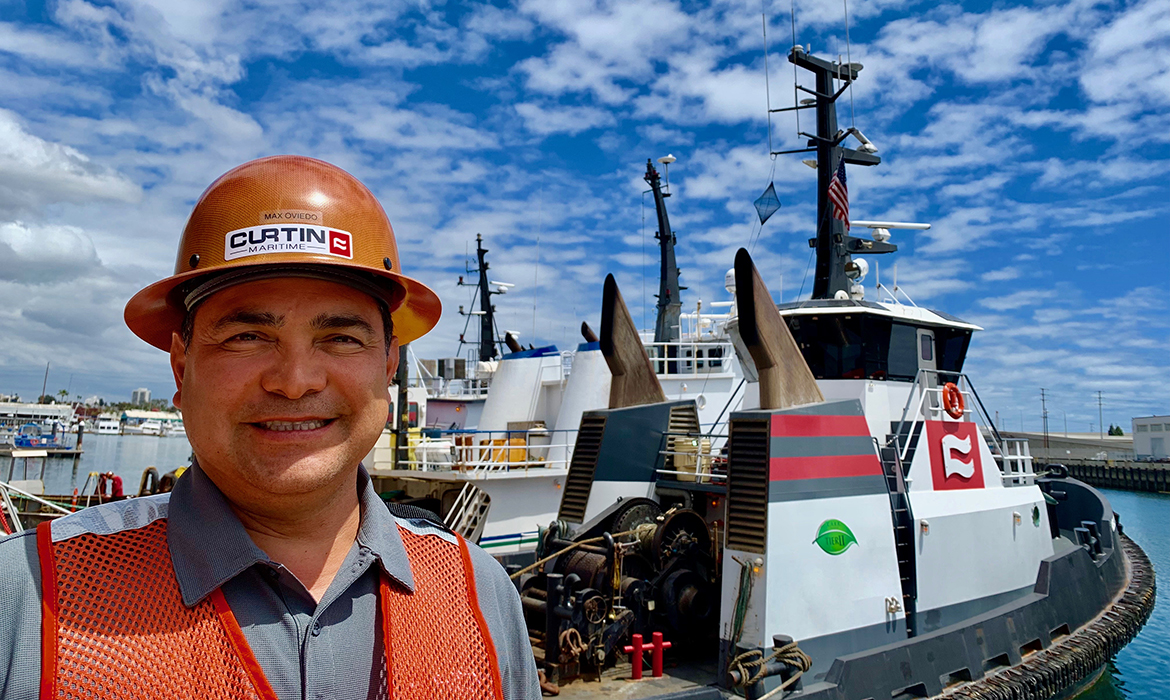 Curtin Maritime Welcomes New GM, Marine Construction
April 30, 2019, Long Beach, CA.
Curtin Maritime is proud to announce and welcome Max Oviedo as the Company's General Manager, Marine Construction. Oviedo will be responsible for overseeing all aspects of Curtin Maritime's Marine Construction Division operations, ensuring successful project execution.
Max has a background in Civil Engineering, earning a Bachelor of Science degree from Cal Poly Pomona, and becoming a CA Registered Professional Engineer. He joins the Curtin Maritime family with 21 years of experience in Marine Construction from Manson Construction. It is there that Oviedo began his career in Marine Construction, first as a Manager Field Engineer in 1998 and completing his successful tenure with Manson Construction as a Project Manager in 2019. Max brings expert knowledge in wharf, pier, and bridge construction as well as dredging.
"We're very excited to welcome Max to team Curtin. His decades of experience in the marine construction field will be a valuable asset to our growing construction division."
-Steve Chew, Business Development
Curtin Maritime Corp is a full-service heavy marine construction company experienced in dredging, ocean towing, marine construction, heavy lift, cargo towing, oil & gas support and salvage operations. Curtin Maritime has performed marine services throughout the Pacific Ocean while based in Long Beach, California.
Find out about maritime jobs & career opportunities at Curtin Maritime, Corp: Maritime Jobs >
Curtin Maritime
2019-05-01T15:51:26-07:00
Curtin Maritime launched our latest full-scale design-build project, converting existing barges to dump scows. The first load of steel was delivered to our Long Beach Facility in early October.
Curtin Maritime
2019-02-19T15:51:09-08:00
Curtin Maritime was excited to work with the LA Galaxy and the clothing brand Port on the Capsule Collection lookbook shot in the Port of Long Beach. The Lookbook for the Capsule Collection was shot on a Curtin Maritime barge being pushed through the Long Beach and Los Angeles shipping channels.
Curtin Maritime
2019-02-19T15:51:59-08:00
The Becker #1 well, located on Summerland Beach in Santa Barbara County, first made history in the 1890's when it was one of the first offshore wells drilled in the U.S. and is once again making history as one of the first of these vintage offshore wells to be permanently abandoned. The Becker well is notorious to local beach-goers as it has been the source of visible oil seepage for years.