Manitowoc 4000 W
Like all of Curtin Maritime's equipment, our Manitowoc 4000w is meticulously maintained and ready to work. A favorite crane known for its reliability and smooth operation, our Manitowoc is currently at our shipyard in the Port of Long Beach, California constantly mobilizing and demobilizing our fleet for the variety of maritime jobs we perform. Equally effective working from a floating platform, this crane has been rolled on and off several barges and been the key piece of equipment for both offshore and inland marine construction jobs.
Year- 1971
Model- 4000W
Builder- Manitowoc
Rebuilt- N/A
Type- Conventional Lift
Main Engine- Cummins QSM-11
Horsepower- 350 HP
Tier Rating- 3
Distance from Deck to Boom Heel-
Boom Length to Heel Pin- 140'
Boom Length (Standard Configuration)- 140'
Lifting Lines- 2
Main Drum Hoist Wire- 1-1/8"
Auxiliary Drum Hoist Wire- 1-1/8"
Boom Hoist Drum Wire- 7/8"
Maximum Capacity- 350,000 lbs
Line Pull- 28,500 lbs
General
| | |
| --- | --- |
| VESSEL NAME : | Manitowoc 4000W Crane |
| DIMENSIONS : | N/A |
| HORSEPOWER : | 350 HP |
| BUILT : | 1971 |
| REBUILT : | N/A |
| MAIN ENGINES: | Cummins QSM-11 |
| TIER RATING: | 3 |
| REDUCTION GEARS: | N/A |
| GENERATOR: | N/A |
| CAPACITY: | N/A |
Overview
When we first decided to build a derrick crane to accommodate our derrick barge DB 185-3 many months of research and case studies went into first finding the right platform to build of off that would suit the demanding needs of the marine construction sector, both offshore and inshore. A true duty cycle machine with large draw works and a heavy built foundation was selected, a Lima 2400b model. Built as a duty cycle dragline machine it was designed to sit in a pit and dig 24/7.
General
| | |
| --- | --- |
| VESSEL NAME : | Manitowoc 4000W Crane |
| DIMENSIONS : | N/A |
| HORSEPOWER : | 350 HP |
| BUILT : | 1971 |
| REBUILT : | N/A |
| MAIN ENGINES: | Cummins QSM-11 |
| TIER RATING: | 3 |
| REDUCTION GEARS: | N/A |
| GENERATOR: | N/A |
| CAPACITY: | N/A |
Machinery
| | |
| --- | --- |
| Main Engine : | Cummins QSM-11 |
| Horsepower : | 350 HP |
| Tier Rating : | 3 |
| Engine Monitoring : | Murphy Digital Display |
| Torque Converter : | (2) Vicon Twin Disc F-10027 |
| Generator : | N/A |
| Generator Capacity : | N/A |
| Generator Output : | N/A |
| Tier Rating : | N/A |
| Air Compressor : | N/A |
| Fuel Capacity : | 300 Gallon |
| Hydraulic Pumps : | N/A |
Controls
| | |
| --- | --- |
| Main Controls | Air |
| Hoist | Air |
| Brake | Air |
| Swing | Air |
Electronics
| | |
| --- | --- |
| VHF | Icom M-36 W/ Headset |
| Computer | N/A |
| Camera | N/A |
| Load Moment Indicator | LSI Robway GS550 |
| Climate Control | N/A |
Equipment
| | |
| --- | --- |
| Tagline Winch: | N/A |
| Lighting: | N/A |
Specifications
| | |
| --- | --- |
| Distance from Deck to Boom Heel: | N/A |
| Boom Length to Heel Pin: | 140' |
| Boom Length (Standard Configuration): | 140' |
| Lifting Lines: | 2 |
| Main Drum Hoist Wire: | 1-1/8" |
| Auxiliary Drum Hoist Wire: | 1-1/8" |
| Boom Hoist Drum Wire: | 7/8" |
Capacities
| | |
| --- | --- |
| Maximum Capacity : | 350,000 lbs |
| Line Pull: | 28,500 lbs |
| @ 26' Radius : | 157,000 lbs |
| @ 135' Radius : | 12,700 lbs |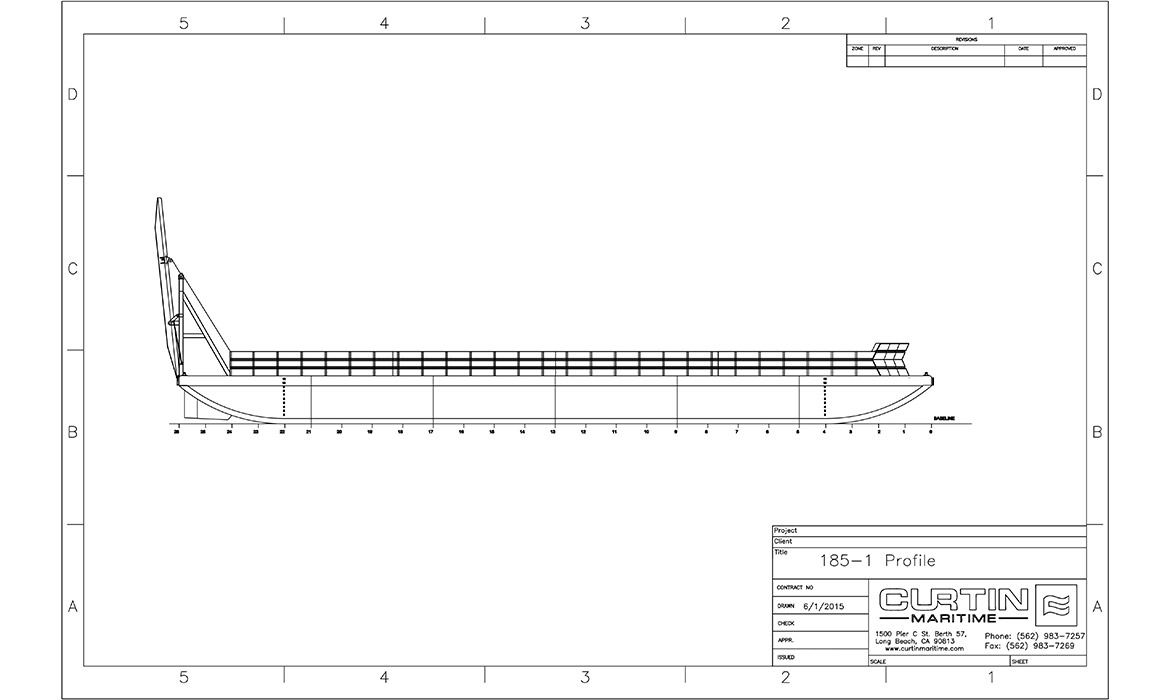 Brendan Raasch
2022-06-07T10:22:42-07:00
Cargo Deck Barge: L-210' W-72' D-13'6"
Brendan Raasch
2022-06-07T10:31:12-07:00
Crane: Boom Length (Standard Configuration)- 140'