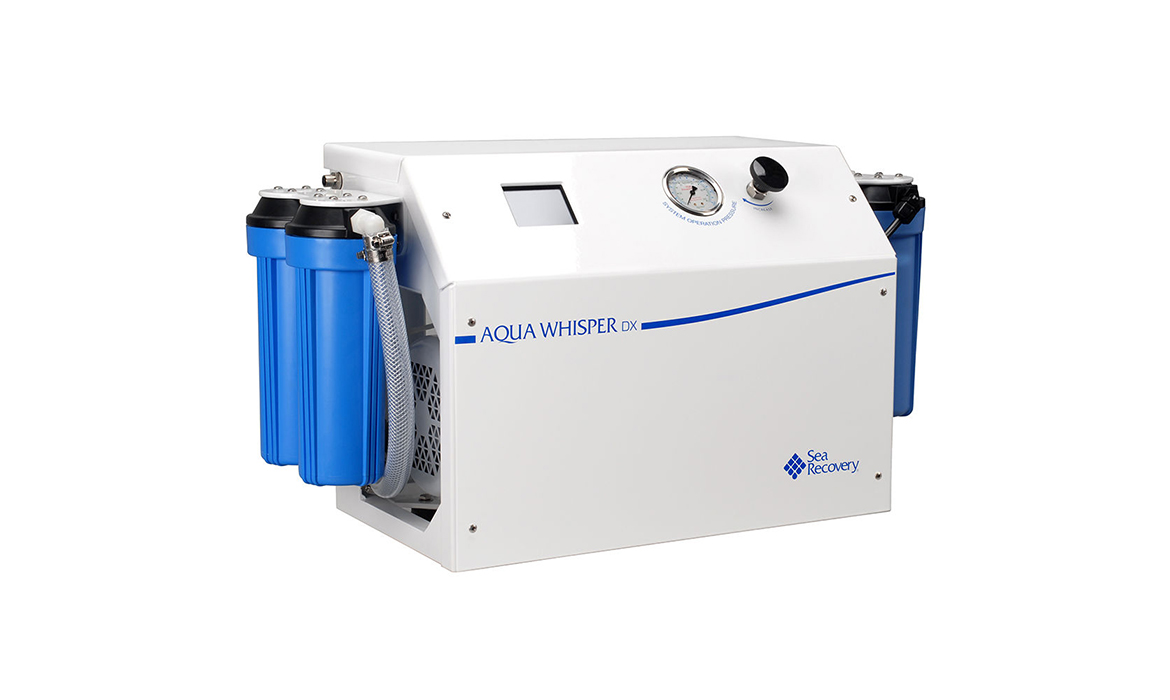 Dual Aqua Whisper water maker set up
Especially for experienced ship owners, the Aqua Whisper DX watermaker of Sea Recovery has been developed. Settings can be completely optimised, depending on the water conditions of the specific time and place. Pressure and temperature can be put in the right position, using the pressure regulation switch. The Aqua Whisper operates in every sea or ocean.
Robust and reliable
User-friendly, sophisticated LCD touch screen
Water production: 1,700 to 6,800 litres a day
Ideal for midsize to large leisure boats
Reliable purification process
With the Aqua Whisper watermakers of Sea Recovery, ship owners can establish the system settings the way they want. Settings like the pressure level can be tuned and monitored using the advanced touch screen display. The LCD display supports the user with maintaining, controlling and configuring the watermaker.
Model #
Per Hour
Per Day
450-1
700-1
900-1
900-2
1400-2
1800-2
19 gal / 71 liter
29 gal / 110 liter
38 gal / 142 liter
38 gal / 142 liter
58 gal / 221 liter
75 gal / 284 liter
450 gal / 1,703 liter
700 gal / 2,650 liter
900 gal / 3,407 liter
900 gal / 3,407 liter
1400 gal / 5,300 liter
1800 gal / 6,814 liter
Model Number: 25RF1144DWLP/Q
Serial Number: 5815/11
RPM: 1800
Lead: 12
Phase: 3
Volts: 120/240
60: HTZ
Continuous Duty: 25kw 27kva 66.8amps
Brendan Raasch
2018-04-04T16:30:13-07:00
Dual Aqua Whisper water maker set up
Brendan Raasch
2018-04-05T13:53:13-07:00
1000 gallon portable diesel tank with transfer hose & pump
Brendan Raasch
2017-09-23T11:07:36-07:00
Ingersoll Rand 300CFM Air Compressor